Languages
machines_monde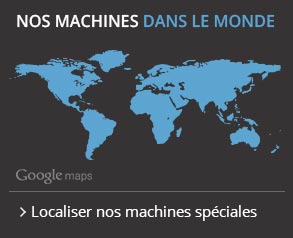 +33 (0)3 21 55 25 71
4 , Hameau de Maisnil 62530 SERVINS
Fax +33 (0)3 21 22 11 12
ACCESS PLAN
Director: akaWAM
Owner and editor of the site
Technomecanic
4, Hamlet Maisnil
62530 SERVINS
Tel: +33 (0) 3 21 55 25 71
technomecanic@technomecanic.com
Use of this site is subject to compliance with applicable laws and these terms and conditions of access and use. We reserve the right to change these conditions at any time , so we encourage users to refer to them regularly.
Hosting
OVH – 2 rue Kellermann 59100 Roubaix – France
Intellectual Property
The general structure, as well as texts , animated or still images, sounds, graphics , downloadable documents, databases and any other component of the site are the exclusive property of Technomecanic .
Hyperlinks
Technomecanic allows any website to create a link to the address www.technomecanic.fr after a simple prior information of the webmaster. All links of this type will be subject to the legal provisions in force.
The www.technomecanic.fr website reserves the right, at any time, without notice and without having to motivate its decision to prohibit such links. In this case it shall inform the person concerned which will have 2 working days to remove the link.
Privacy Policy
The user is informed that personal data concerning him, which he communicates via the forms on this site are required to answer to his request . These data are collected by Technomecanic responsible for their treatment, for management of customers and prospects, order management , monitoring customer relationship and prospecting , managing marketing and promotional operations , recruitment .
Pursuant to Article 40 of the Act of 6 January 1978, the user of the Site has a right of access to personal data concerning him, and the right to rectify , complete , update , lock or delete personal data that is inaccurate , incomplete, ambiguous , outdated or whose collection, use , disclosure or storage is prohibited .
Pursuant to Article 38 of the Act of 6 January 1978, the Website user also has the right to oppose, for legitimate reasons, the processing of personal data and on a right to object to this these data are used for purposes of commercial prospecting .
The rights of access, rectification and opposition may be exercised by email to technomecanic@technomecanic.com .